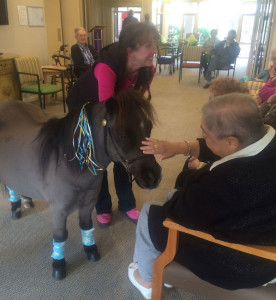 Angels with Hooves is an extension of Balloonaversal Entertainments which provides miniature therapy horses for regular visits to Aged Care facilities all over Melbourne. "It is such a rewarding job seeing the residents respond to the pony with a simple smile, a willingness to participate in stroking the pony … or even shedding a tear. I have witnessed some truly beautiful moments I'll never forget" says Michelle Patterson, founder of Angels With Hooves.
Uniting AgeWell Staff Member Shares Their Recent Experience In This Candid Interview
At one of our more recent outings to Uniting AgeWell in Wyndham Vale, Gemma Tapping interviewed one of the staff members about the profound health benefits of animals … particularly ponies visiting the elderly. Here's Angela Shegog's view of animals for therapy and Jeremiah the mini pony's interaction with their residents.
Gemma: Is this the first time you've had animal assisted therapy?
Angela: No it is not, we have had other animals come out before.
Gemma: What other animals have you had come out before?
Angela: Animals we have had here before is a dog, circus poodles, we had a chicken coop, reptiles, crocodiles, snakes, and cats.
Gemma: How long ago was it?
Angela: The dog came last week, the circus poodles came a year ago, the chicken coop was here a year and a half ago, the reptiles, crocodiles and snakes came here a year ago, and the cats were here a year ago.
Gemma: How often?
Angela: The dog comes every week, the circus poodles only came once, the reptiles, crocodile and snakes came once, and the cats used to belong to one of the residents so they were here every day.
Gemma: Do you have a weekly, fortnightly, or monthly program of activities?
Angela: Every week we have activities such as music concerts, an art teacher comes out and helps them to paint, we have create crafts sessions, we have reminiscence sessions, a session where the residents can learn how to make object out of leather such as wallets, we have bingo, a movie cinema, we have trivia, quiz games, they can see the current news every day, we also have dance therapy, a walking group and active games such as playing with balls and rackets.
Gemma: What other kinds of activities or incursions do you have on a regular basis?
Angela: Once a month we have high tea with different cakes and slices, and we have volunteers who come out and talk and interact with the resident one on one.
Gemma: What sort of positive benefits do you expect to see from having Jeremiah here today?
Angela: I would hope to see Jeremiah make the residents happy, and see the satisfaction on their faces, he cheered them up.
Gemma: How do you think Jeremiah made people happy today?
Angela: I think him interacting and bringing everyone together, I think it made people happy because it was something new and exciting. The affection he provided them and that he was friendly and cuddly.
Jeremiah Enjoys A Cup Of Coffee With A Couple Of Residents
Gemma: Were there any surprising questions or interactions by the residents today?
Angela: When the residents gave Jeremiah a cup of coffee.
Gemma: How did you hear about Angels with Hooves?
Angela: My co-worker, Angela Taylor, received a brochure about a year ago and when we got enough money to get you guys out here she organised it.
Gemma: Would you happily recommend Angels with Hooves?
Angela: Yes I would definitely, because it is a perfect organisation for the elderly as well as kids, and it is something different and new for everyone.
Gemma: What has been your favourite moment with the pony and residents so far?
Angela: My favourite moment was the whole time he was here, and the residents reacting with the pony.
Gemma: Why do you say that?
Angela: Jeremiah gave the residents something to look forward to and get excited about, it was great to see the surprise on their faces when they saw the pony for the first time.
Gemma: Why is that important?
Angela: It is important for the residents to look forward to the pony because it gives them something to get excited about and so they are kept happy and content which really is the main aim.
Gemma: Angela, thank you so much for being willing to be interviewed today, I'm glad Jeremiah has brought joy to your residents today.
Angela: My pleasure.
If you would like to find out more about the Angels With Hooves program, please click here.