Balloonaversal Entertainments is your premier team of kids' party entertainers in and around Melbourne. We offer a wide range of extraordinary entertainment for children and young adults, and face painting happens to be one of our specialties. Here's a brief look at our face painting expertise, and how we can turn your child's next birthday party into a magical event they won't soon forget!
About Balloonaversal Face Painting
Balloonaversal's face painting entertainment services are just a part of our complete offering, which also includes amazing advanced balloon twisting, wonderfully clever magicians and of courseour well-loved pony rides and pony party services. Our face painters spend most of party painting the faces of your child and their friends – and perhaps some of the grown-ups, too, then finish up with balloon twisting!Wow! How can you beat that for kids party value?
The Face Painting Designs We use
Naturally, the face painting designs we use at your child's party will depend on the chosen party theme and then what the kids ask for. The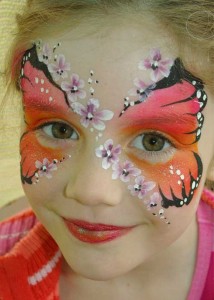 designs we use cover most of today's most popular party themes, including superheroes, Disney princesses, jungle/zoo themes, and popular cartoons, as well as whatever is new on kids TV or Movies for kids.
To give you an idea, little girls love to have butterflies or fairies with beautiful shimmery patterns and plenty of sparkles, and other pretty designs painted on their faces. Little boys on the other hand prefer superhero masks and animal faces or scary zombie faces. Kids' preferences for face painting designs change as they get older, but don't worry – we have those covered!
(For more information on the face painting designs we use, visit our Face Painting page)
Our Training And Experience
Our face painting expertise had its humble beginnings in 1999, when Michelle Patterson underwent her initial training in the UK with renown face painter Liz Bylett from Follies Faces in Kent.Michelle became hooked and furthered her training with her husband Peter Patterson in the following years, training under some of the best face and body painters in the world. Since then, they've taken the knowledge and wisdom – and the desire to make children smile – and formed one of the most beloved kids' entertainment offerings in and around Melbourne.
Some of our world-renowned face and body painting mentors include Mark Reid and the Wolfe Brothers of the USA, Geneviève Jinny Houle of Canada, and Olivier Zegers of Belgium.

Peter and Michelle personally train their own growing team of talented and enthusiastic entertainers in both the fine art of face painting, balloon twisting and hosting kids parties, to ensure their customers are always enthralled with their party and entertainment experience.
Contact Us Today!
It is our greatest pleasure to make your child's next party an event to remember for the rest of their life. If you'd like to hire our face painting services for an upcoming occasion be it a children's party or a company or community event, or if you just want to say hi, feel free to contact us today by visiting our 'Contact Us' page. Looking forward to hearing from you!